Ferrara Greeters
‎‎‎‎‎‎‎‎‎‎
Free Personal Walking Tour with a Local
Ferrara Greeters will be available soon!
Are you planning to visit us and would like to enjoy a Greet? We would love to show you our favorite places but we are just only building up our group. So, please try to request a Greet for your next visit.
Become Ferrara Greeter!
Do you love Ferrara, do you want to make it known to visitors from all over the world? Fill out the form below and join us! You will live a beautiful experience that will enrich you personally!
Discover Ferrara on a free walking tour with a local
Ferrara was for centuries the capital of the Duchy of Ferrara, Modena and Reggio. Rich in monuments and works of art, the city offers tourists an itinerary full of history connected to the River Po and the Dukes of the Este family. On foot or by bicycle you can see the Castle of the Este Family, the Cathedral, the Duke's Palace and you can get lost in the narrow streets of the Jewish Ghetto looking for the remains of its history from the times of the dukes to the present day. In addition to the historic center, Ferrara offers a unique historical monument of its kind, a fortified wall that surrounds the city for 11 km and which can be traveled on foot or by bicycle, completing the knowledge of the city and the splendor of the Este Dukes over the centuries. Finally, you cannot leave Ferrara without tasting the pumpkin cappellacci, the salama da sugo, the tenerina … and take home not only the cultural memory but also the gastronomic one.!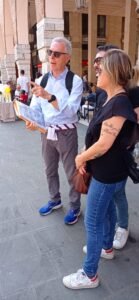 Ferrara Greeters are volunteers who will share their love for the city with you in an enthusiastic and hospitable manner. A Greeter will walk with you through the city for a couple of hours allowing you to experience our city in a unique way. For families, friends or people travelling solo – a truly enriching experience!