Ferrara Greeters
‎‎‎‎‎‎‎‎‎‎
VEN A DAR UN PASEO CON NOSOTROS
Decubra Ferrara en un paseo privado gratuito con un guía local
Ferrara was for centuries the capital of the Duchy of Ferrara, Modena and Reggio. Rich in monuments and works of art, the city offers tourists an itinerary full of history connected to the River Po and the Dukes of the Este family. On foot or by bicycle you can see the Castle of the Este Family, the Cathedral, the Duke's Palace and you can get lost in the narrow streets of the Jewish Ghetto looking for the remains of its history from the times of the dukes to the present day. In addition to the historic center, Ferrara offers a unique historical monument of its kind, a fortified wall that surrounds the city for 11 km and which can be traveled on foot or by bicycle, completing the knowledge of the city and the splendor of the Este Dukes over the centuries. Finally, you cannot leave Ferrara without tasting the pumpkin cappellacci, the salama da sugo, the tenerina … and take home not only the cultural memory but also the gastronomic one!
Now you can meet a Greeter and go for a walk around town with him and talk about social and cultural life as you would with a new friend. In fact, the Greeter is not a tour guide but simply a local person who loves Ferrara. Each walk, completely free, is for a single booking (maximum 6 people) and depends on the availability of a volunteer.
Solicite su Ferrara Greet aquí!
Cuéntenos sus planes para su visita a nuestra ciudad
Haga clic aquí para solicitar su Greet.
Recuerda: Un Greet significa conocer a un residente local para pasear por la ciudad con usted como nuevos amigos. El primer paso será hablar con el Greeter sobre los detalles de su visita personalizada. No se trata de participar en un recorrido estandarizado, sino de explorar la ciudad con un voluntario experimentado.
Haga clic aquí para enviarnos su opinión personal sobre Greet.
¿Quiénes son los Greeters?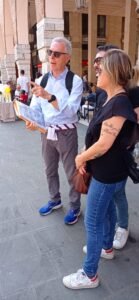 Ferrara Greeters son voluntarios que compartirán con usted su amor por la ciudad de forma entusiasta y hospitalaria. Un Greeter caminará con usted por la ciudad durante un par de horas, permitiéndole experimentar nuestra ciudad de una manera única. Para familias, amigos o personas que viajan solas: ¡una experiencia realmente enriquecedora y totalmente gratis!
Haga clic aquí para enviarnos su opinión personal sobre Greet.