Lund Greeters
‎‎‎‎‎‎‎‎‎‎
Free Personal Walking Tour with a Local
Discover Lund on a free private walking tour with a local
Welcome to Lund Greeters!
Lund was founded by the Danish king Harald Bluetooth in the end of 960th or beginning of 970th, which makes it the oldest city in Sweden. During the Danish medieval time, Lund was the archbishop papal center for 500 years. There were 22 churches and four monasteries. The city was part of the Danish kingdom for almost 700 years, and Swedish the last 360 years.
Nowadays, Lund has one of the biggest Universities in Sweden, with about 42000 students and 8000 employees. Due to the University, Lund has a lot of humorous attractions, a lot of research and many very good restaurants. When visiting our city, greeters from the non-profit tourist organisation Destination Lund will show you interesting places and things about our old historical city and telling you the stories about how the city was founded, more than 1000 years ago!
Request your Lund Greet here!
Tell us about your plans and preferences.
The chance of finding a greeter is greatest if we receive the request fourteen days before the desired date.
Click here to submit your Greet request!
Remember: A Greet means meeting a local resident to walk around town with you as new friends. The first step will be to talk to the Greeter about the details of your personalized tour. It is not about participating in a standardized tour, but about exploring the city with an experienced volunteer.
Click here to send us your personal review on your latest Greet!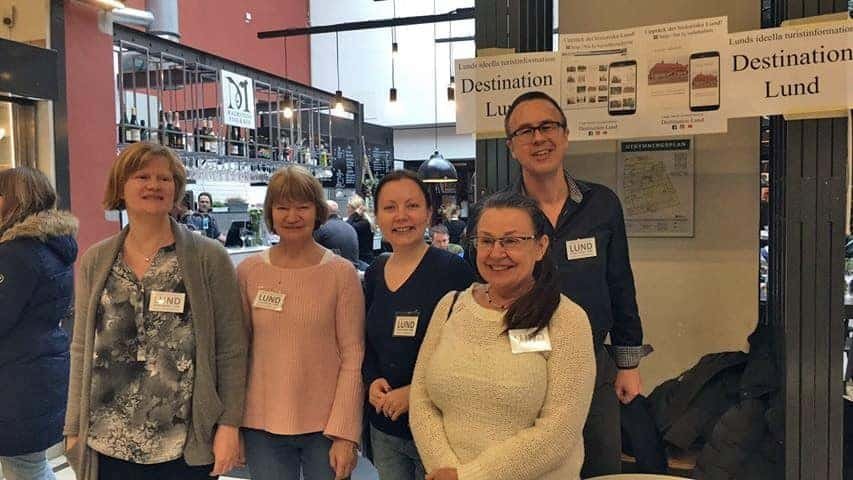 We simply offer you the opportunity to enter the more everyday aspect of our city of Lund.During our walk, the inhabitants of Lund, the "greeters", lovers of their city, will be happy to share with you the charm of unusual places and to tell you the great and small stories of their homearea. This walk will take into account your tastes, interests and rhythm. What your greeter brings you: He or she will share with you his or her experiences and anecdotes; will tell you his or her good addresses; and of course will be happy to answer questions that will allow you to better understand Lund and its surroundings. Moments that we hope will remain unforgettable for you.