Ferrara Greeters
‎‎‎‎‎‎‎‎‎‎
Balade gratuite avec un local
Découvrez Ferrara avec un de nos volontaires locaux
Ferrara was for centuries the capital of the Duchy of Ferrara, Modena and Reggio. Rich in monuments and works of art, the city offers tourists an itinerary full of history connected to the River Po and the Dukes of the Este family. On foot or by bicycle you can see the Castle of the Este Family, the Cathedral, the Duke's Palace and you can get lost in the narrow streets of the Jewish Ghetto looking for the remains of its history from the times of the dukes to the present day. In addition to the historic center, Ferrara offers a unique historical monument of its kind, a fortified wall that surrounds the city for 11 km and which can be traveled on foot or by bicycle, completing the knowledge of the city and the splendor of the Este Dukes over the centuries. Finally, you cannot leave Ferrara without tasting the pumpkin cappellacci, the salama da sugo, the tenerina … and take home not only the cultural memory but also the gastronomic one!
Réserver votre balade à Ferrara ici!
Parlez-nous de vos projets pour votre visite dans notre ville
Cliquez ici pour ouvrir le formulaire de demande!
Cliquez ici pour votre avis personnel sur votre dernier Greet!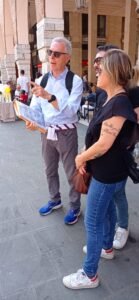 Ferrara Greeters sont des bénévoles qui partagent avec vous leur amour de la ville de manière enthousiaste et hospitalière. Un Greeter se promènera avec vous dans la ville pendant quelques heures, vous permettant ainsi de découvrir notre ville d'une manière unique. Pour les familles, les amis ou les personnes voyageant seules - une expérience vraiment enrichissante !
Cliquez ici pour votre avis personnel sur votre dernier Greet!