Dhaka Greeters
‎‎‎‎‎‎‎‎‎‎
VEN A DAR UN PASEO CON NOSOTROS
Decubra Dhaka en un paseo privado gratuito con un guía local
Built on the northern bank of the Buriganga River, Dhaka is a city that has witnessed many historical events, impressive architecture, and hundreds of years of British history. The city is Bangladesh's capital and the largest city and serves as Bangladesh's political, economic, and cultural hub.
Rambling aimlessly on the streets of Dhaka. These are not found in the streets of Western countries. The streets of Dhaka are full of people, hawkers, and various dramas of life. Walking in a neighborhood is sometimes an adventure because of the unique nature of the dilapidated roads. The character of each neighborhood is different. Sometimes going anywhere by bus. Another thing is Tong tea stalls. Come to Tong tea stalls and drink tea with cash payment. You can see different types of people!
Solicite su Dhaka Greet aquí!
Cuéntenos sus planes para su visita a nuestra ciudad
Haga clic aquí para solicitar su Greet.
Recuerda: Un Greet significa conocer a un residente local para pasear por la ciudad con usted como nuevos amigos. El primer paso será hablar con el Greeter sobre los detalles de su visita personalizada. No se trata de participar en un recorrido estandarizado, sino de explorar la ciudad con un voluntario experimentado.
¿Quiénes son los Greeters?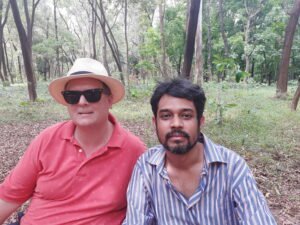 Dhaka Greeters son voluntarios que compartirán con usted su amor por la ciudad de forma entusiasta y hospitalaria. Un Greeter caminará con usted por la ciudad durante un par de horas, permitiéndole experimentar nuestra ciudad de una manera única. Para familias, amigos o personas que viajan solas: ¡una experiencia realmente enriquecedora y totalmente gratis!
Lo que dicen nuestros invitados
Our Greeter in Dhaka was very patient despite our tardiness, her welcome was wonderful, the tour excellent and you can clearly sense that she cares about showcasing every facet of her town.
Thank you, Dhaka Greeters, it is so great to be welcomed like friends, to see a place with the eyes of a local, have a chat in a tiny café and - eventually - leave as a friend.
Haga clic aquí para enviarnos su opinión personal sobre Greet.